Vending Services Overview
Whether you're starting your first vending business or switching existing services from another company, Scioto Vending can accomodate your vending needs while making the transition seamless.
Initial Setup: Getting Started is Easy!
During the initial setup period, Scioto Vending will work with you to acquire information about anticipated usage levels and special product requests. We will match our equipment size and style to meet your needs. We will determine the proper ongoing service schedule to ensure the machines will never run low on inventory, keeping your guests and employees satisfied at all times.

Contact Us Now
New & Popular! Featured Vending Machine Products
Vending products are constantly changing to reflect customer tastes and market trends. We carry popular brand name products like Doritos, Lays Potato Chips, Snickers and Reese's. In addition, we have PopCorners, Jack Links Beef Jerky, K-Cups, 5-Hour Energy and White Castle Coffee. We also accept special requests for products not currently in inventory.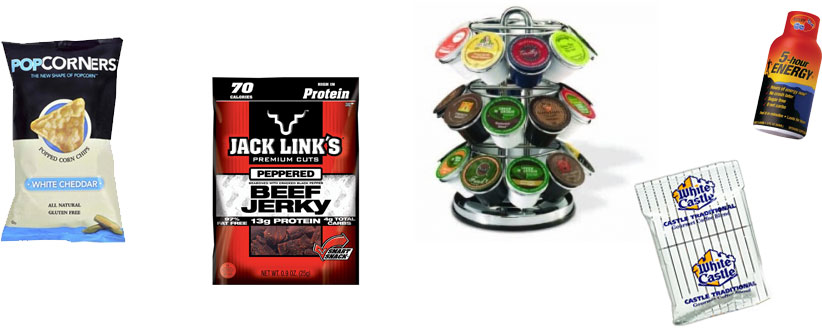 Vending Equipment Selection
Scioto Vending offers a wide variety of vending machines that dispense soda/pop, candy, healthy snacks, cold food, and coffee. Take a closer look below! In addition to the machine types below, we also provide microwaves, condiment stations and water filtration systems on a rental basis.
Soda/Pop Machines
We offer many different types of soda pop vending machines filled with the standard soft drinks like Pepsi, Coca-Cola, Mountain Dew and new energy drinks like Monster, Rockstar, and Vitamin Water products. We also carry healthy alternatives such as fruit and orange juices.
Coin Operated Coffee Machines
Coin operated coffee machines can be provided for high-volume accounts. Our coin operated coffee machines offer a wide variety of options including medium and dark roast premium coffee, cappuccino, latte, and hot chocolate.

Read more about our Office Coffee Services.